CEM100N3X15D-BTA [overall length: approx. 384mm]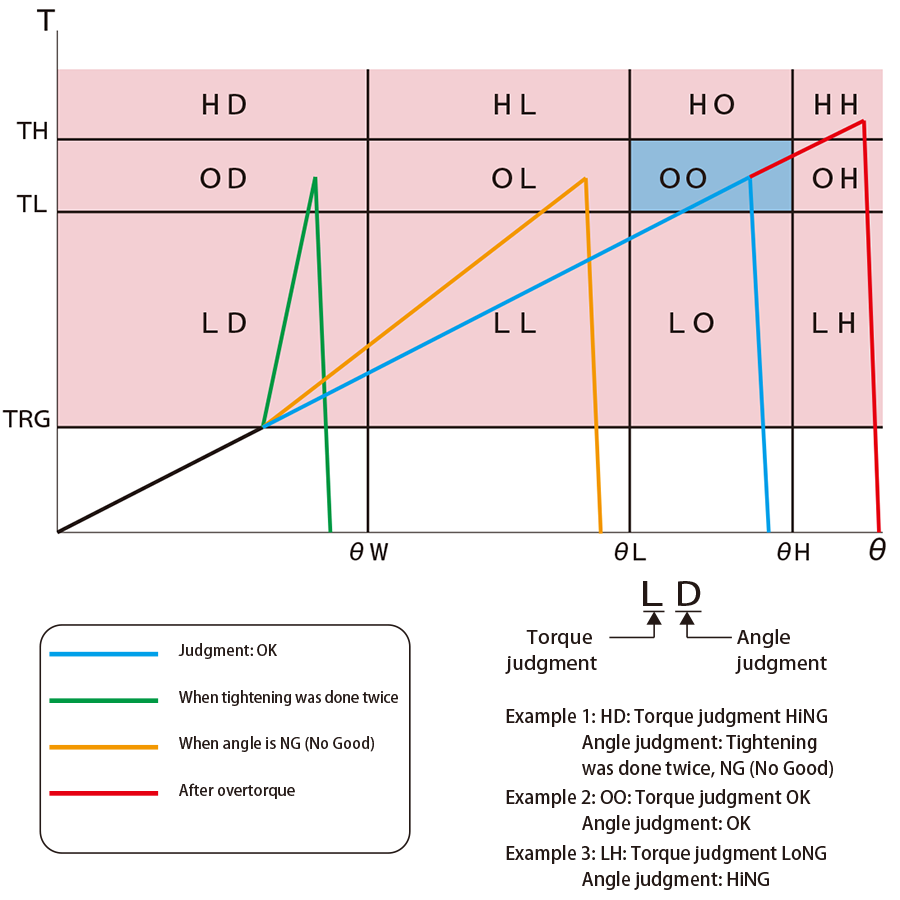 Provides Pass/Fail judgments of tightening torque and final angle, once you set threshold values.
TRG: Trigger torque, TL: Lower limit torque, TH: Upper limit torque, ΘW: Angle determining two rounds of tightening, ΘL: Lower limit angle, ΘH: Upper limit angle
* Letters on first line indicate torque judgment; on second line, angle judgment; displayed as D, L, O and H.
Application
---
Tightening tasks requiring torque and angle control
Detects two rounds of tightening to prevent this human error (Pokayoke).
Features
---
Records in memory and outputs torque and angle at final tightening.
Capable of performing Pass/Fail judgments of tightening torque and angle.
You can set torque and angle required for Pass/Fail judgments.
Uses torque and angle values to detect two rounds of tightening (human error).
Built-in Bluetooth® module to transmit data wirelessly.
The CEM3-BTA/CEM3-G-BTA conforms to telecommunication standards in Japan, the U.S., Canada, the EU, China, Thailand, Mexico, Vietnam, Brazil, Taiwan, Singapore, South Africa and Indonesia (information valid as of August 2019). For other countries and regions, please contact Tohnichi.
Demonstration video
---
Digital torque wrenches with angle measurement function CEM3-BTA/CEM3-G-BTA
Specifications
---

Dimensions
---

CEM3-G-BTA