"CL/CLE2"  Interchangeable Head Type Adjustable Torque Wrench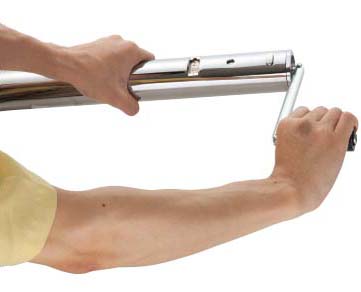 ---
Application
For tightening various kinds of bolts on production lines.
---
Features
Same features as QL/QLE2 type with interchangeable heads.
By exchanging heads, the wrench services a variety of applications from open end spanner, ring, ratchet, hex heads, and more, with a single wrench.
A clear "click" sound signals tightening completion upon reaching the set torque.
Torque setting is easy to adjust by knob and scale.
With CLE550N2 to CLE1200N2 models, the built-in torque adjustment handle makes torque changes easy even without a special-purpose tool.
CL2N to CL25N5 models have a resin grip with large built-in scale.
CL50N to CL280N models have a resin grip, while CL420N has a knurled metal handle.
CLE550N2 to CLE1200N2 models have an extension handle that separates from the body for compact storage.
CL25N5x10D, CL50Nx12, CL50Nx15D, CL100Nx15D and CL140Nx15D adjustable torque wrenches can be used with interchangeable adjustable heads (AH) (monkey wrench type).
---
Specifications

---
Dimensions
---
Notes
Overall length does not include interchangeable head. Interchangeable heads are optional.
PH type interchangeable head/p.48 is not applicable.
CL2N – CL25N5 are yellow/black resin grips.
CL50N – CL280N are black resin grips.
CL420N and CLE550N2-CLE1200N2 are knurled handles.
CLE2 models with built-in Adjusting Handle.
---
Interchangeable Head ⇒

Click
---
Accessories
PROTECTIVE HEAD COVER
COLOR RINGS
CARRYING CASE