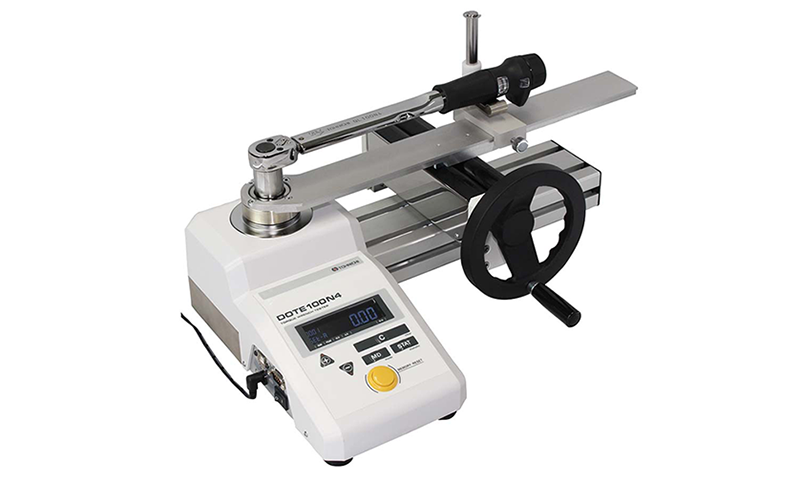 Digital Torque Wrench Tester DOTE100N4

The color on the display panel indicates Pass or Fail. Easy recognition.
White: Now evaluating  Blue: OK (Pass)  Red: NG (No good)
---
For calibration and adjustment of torque wrenches
Features
---
DOTE4 and DOTE4-G digital torque wrench tester models have a Pass/Fail Judgment function. The LCD panel displays values in color, making it easy to verify whether measurement readings are within set parameters.
Upper and lower parameter values can be entered by keystroke, or by entering a command in an external device, such as a computer or barcode reader. *Dedicated software ordered separately is required to enter a command from an external device.
The loading device acts on the effective length of the torque wrench. This means that calibration conditions are uniform, permitting measurement accuracy.
Torque measurement resolution is more than double what was offered by the DOTE3 and DOTE3-G models.
ExRcv (Excel Receiver) software automatically enters measured data in a Microsoft Excel® file. The software can be downloaded for free from the Tohnichi website. *This function requires a cable (No. 383 or 385, sold separately) to connect the DOTE4 to a computer.
Outputs measurement results to a computer or dedicated printer, using RS232C / USB output connector
The large DOTE500N4(-G) and DOTE1000N4(-G) models offer an optimal display position, making it easy to read the display during work.
DOTE4-MD2 and DOTE4-G-MD2 models have a loading device with electric motor, ideal for calibrating, adjusting and repairing many torque wrenches.
Also for DOTE4 and DOTE4-G models with a JCSS Calibration Certificate, and for models with a statement of calibration uncertainty.
Uses AC100 to 240V ± 10% power. Battery pack also available as an option.
CE markings applied for use in the EU.
Demonstration video
---
DOTE4 / DOTE4-G Digital Torque Wrench Tester Features
Specifications
---


Dimensions
---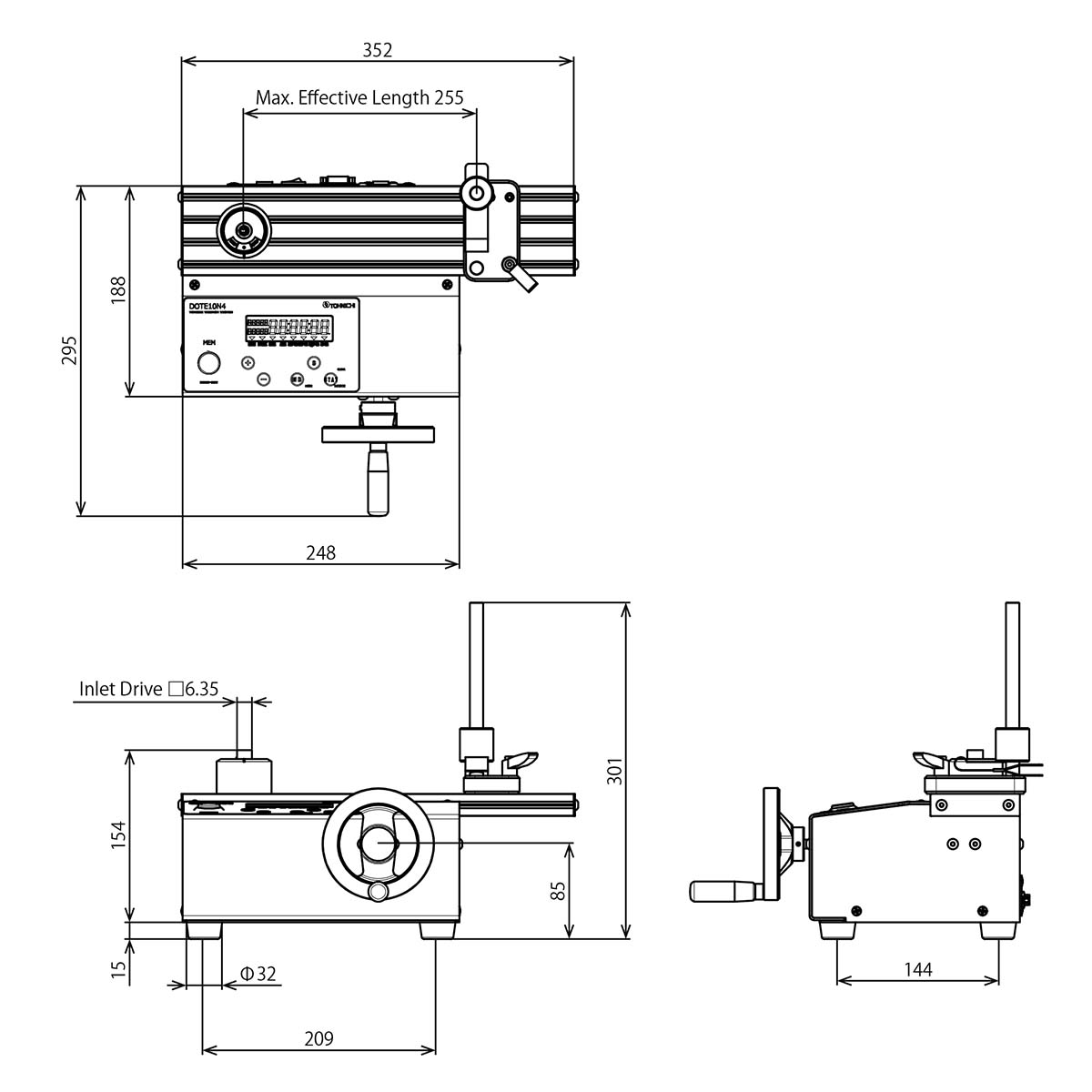 DOTE20N4-G~DOTE200N4-G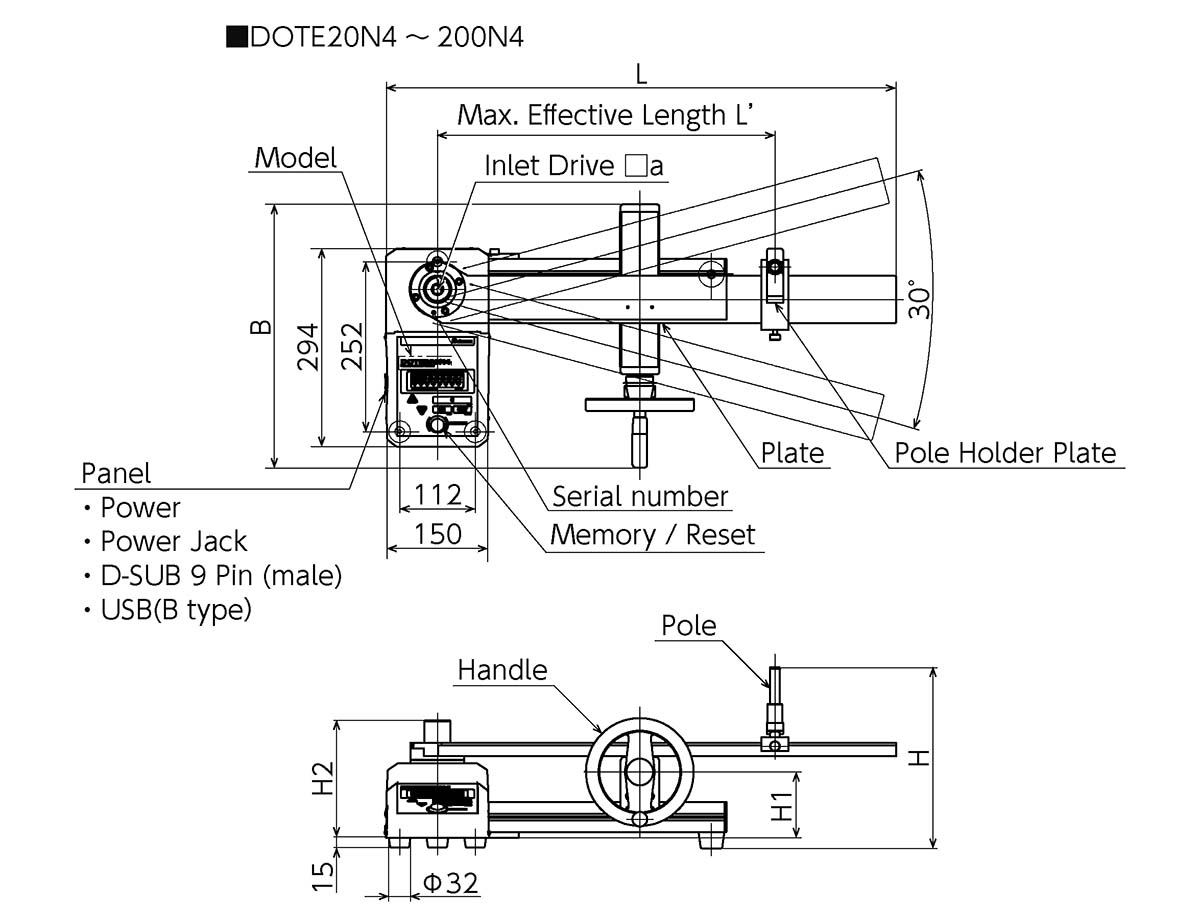 DOTE500N4-G~DOTE1000N4-G