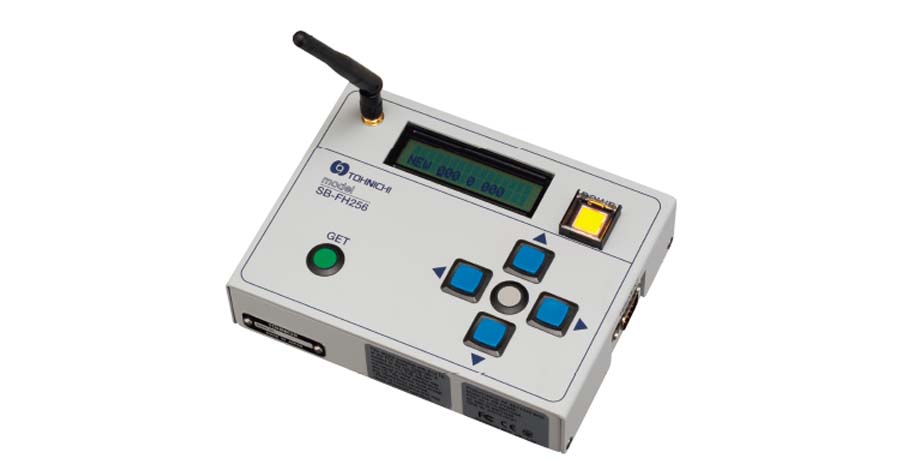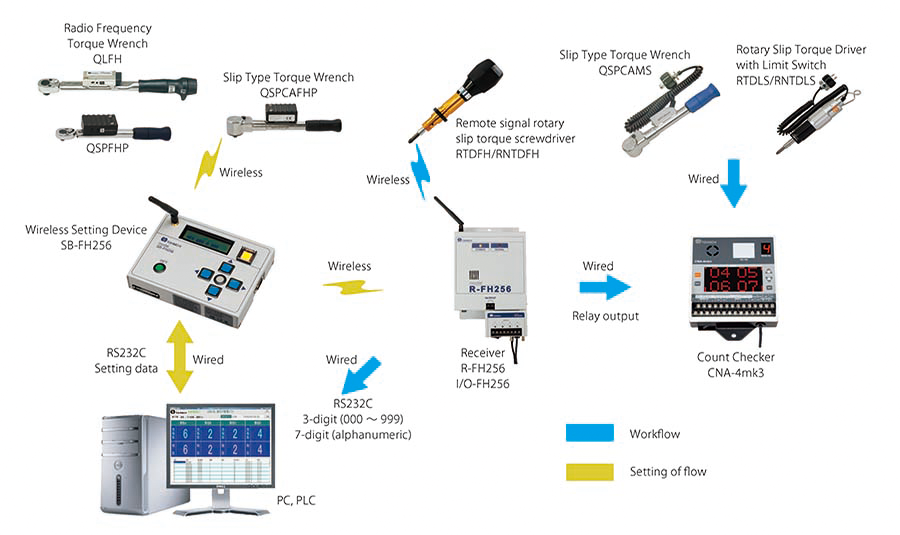 Example of a Pokayoke (error-proofing) configuration:
Make/change setting on group channel, ID, etc. for FH wireless torque wrenches.
Features
---
You can easily and wirelessly change the group channel, judgment code and ID for the T-FH256MC, T-FHSLS256, T-FHP, FD and FDD transmitters and the R-FH256 receiver.
Instead of opening the cover of the transmitter/receiver to change settings, it can be done with simple wireless key operation.
The SB-FH256 setting controller conforms to telecommunication standards in Japan, the U.S., Canada, the EU, China, Malaysia, Indonesia, India, Thailand, South Africa, South Korea, Russia, Taiwan, Mexico, Vietnam and Singapore (information valid as of March 2019). For other countries and regions, please contact Tohnichi.
Specifications
---
| | |
| --- | --- |
| FREQUENCY BAND | 2.4GHz |
| COMMUNICATION SYSTEM | Spread Spectrum (Frequency hopping system) |
| MODULATION SYSTEM | GFSK |
| GROUP CHANNEL | 256(000~255) |
| ID | 3-digit (000~999), 7-digit (alphanumeric) |
| INPUT | RS232C |
| POWER | DC9V (alkaline battery, approx. 10hr usable) |
| ANTENNA | Dipole antenna |
| OPERATING TEMPERATURE RANGE | 0~45℃ |
| TRANSMITTING/RECEIVING DISTANCE | 10~20m (The transmitting/receiving distance may be shortened depending on the surrounding radio environment) |
| WEIGHT | 0.9kg |
Dimensions
---