SCSP50N-9X12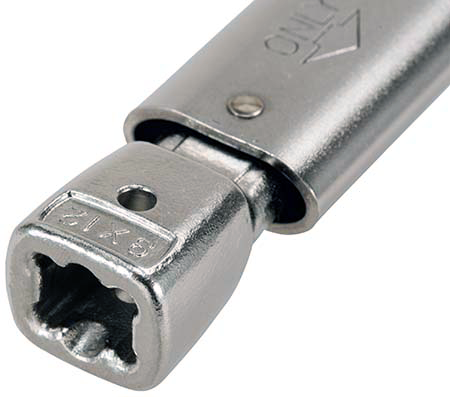 Interchangeable head insert part
---
For assembly and mass-production.
Features
---
DIN interchangeable heads, which are common in Europe, for connectable preset interchangeable-head torque wrenches.
The torque value cannot be adjusted from the exterior without a special tool (sold separately), preventing the operator from changing torque by mistake.
A clear "click" sound signals tightening completion upon reaching the set torque.
Specifications
---
S.I. MODEL
SCSP25N-9×12
SCSP50N-9×12
SCSP100N-9×12
SCSP200N-14×18
TORQUE RANGE [N・m]
MIN. ~ MAX.
5~25
10~50
20~100
40~200
TORQUE RANGE [kgf・cm]
MIN. ~ MAX.
50~250
100~500
200~1000
400~2000
HEAD SIZE [mm]
9×12
14×18
MAX. HAND FORCE[N]
138
258
375
476
DIMENSION[mm]
EFFECTIVE LENGTH
L
204
230
302
434
OVERALL LENGTH
L'
181.5
194
266.5
420
HEAD
C
23
b
20
26
BODY
m
19
25.5
28
35
n
9.2
11.2
12.2
15
D
29
34
27.2
ℓ
83
89
107
-
WEIGHT[kg]
0.22
0.37
0.52
1.2
Accuracy±3%
Dimensions
---