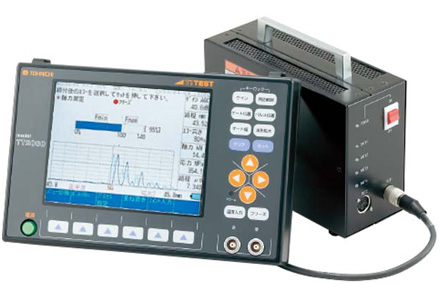 TT2000
You can connect to a personal computer and conduct data management and analysis. We also create software meeting customer requirements (only for TT2000C and TT2000M). Please contact us.
---
Bolt tension test.
Bolt aging test, loosening test.
To define the optimum torque level for the bolt.
Features
---
Japanese-language display on large, easy-to-read color screen.
Simple operation using dialogue-style data input method.
Compact and light weight. Portable for use at the work site.
Portable battery available as option.
Variety of functions, overlapping of wave pattern and wave detection change are available for measurements with high reliability.
Simplified bolt dimension will be displayed in graphic with input values expressed in red.
Bi-directional communication with PC for data creation, and measured value backup. (* Note: Except TT2000)
We also supply a special English text display model.
Can also be used at development and manufacturing sites outside Japan.
Specifications
---